Things you should know before you arrive
You're ready to set off on a journey to one of the most unique cities in the world and to learn English or French language skills that will take you places. Here are a few suggestions to get you on your way for an enriching experience that will last a lifetime.
What to bring?
Montréal has four seasons: winter, spring, summer and fall. From June to August, be prepared for summer, while in September/October, be prepared for fall. If you need to buy winter clothes (coats, boots, thermal wear, hats, sweaters, etc.), you might be better off buying them in Montreal to ensure they are suitable for the weather.
Don't forget to bring the following important documents:
Valid Passport
Student visa
International driver's license (request from your local transport authorities before you leave)
LAB Montreal acceptance letter
Medical report/prescriptions (if applicable)
How to Find LAB's Montreal Campus
Our campus is located at 2000, Sainte-Catherine Street West, close to transportation hubs and an array of restaurants and shopping.
Getting Around is Easy
Montréal has an extensive metro and bus system that make it inexpensive and easy to get around the city.
Métro
The Métro is an underground rapid-transit system and the primary form of public transport in the city of Montréal.
Bike
Bikes can be a cheap alternative depending on how long you have to commute to school and can be rented throughout the city.
Health Insurance
The Ministry of Citizenship and Immigration Canada requires the school ensure that insurance companies offer you adequate coverage. International students must purchase the insurance provided by Lab Montréal, which provides an assurance of adequate health coverage in case of medical emergencies during your time in Canada. Students will obtain an insurance card, information leaflet and claim forms during the orientation session on their first day of class. The exception is for students of French nationality, who must obtain their health insurance before they leave. For more information, visit the bureau de la Sécurité sociale.
Electronic devices
Canada uses the nominal tension of 110 volts with an alternating current of 60 watts. If your country has a different voltage, be sure to get an adapter for your electronic devices. Be sure to inquire what are the best solutions for you. Here is a website link that may help: Adaptors and converters
*Adaptors allow you plug your electronic devices in foreign sockets while converters convert electrical tension.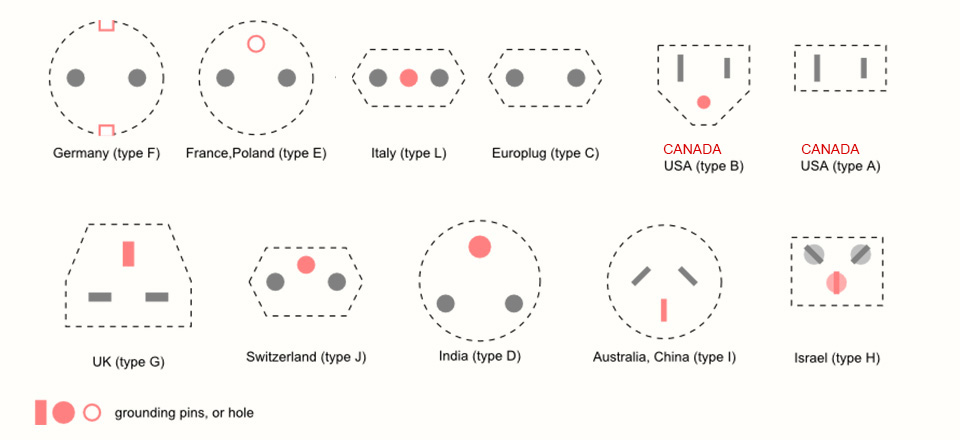 Cell phone
If you bring your mobile, you can connect several ways and with various companies. The easiest way to connect is to buy a SIM card (price depends on how many GB you wish to have).
Canada's main telecommunication companies:
Our Destinations